Nato leaders will publicly recommit to Ukraine becoming a member of the military alliance and unite on how to bring Kyiv closer to this goal when they meet in Vilnius on Tuesday, according to the organisation's secretary general.
"For 500 days, Moscow has brought death and destruction to the heart of Europe," , Jens Stoltenberg told reporters in a news conference in Brussels previewing the gathering. "Our summit will send a clear message: Nato stands united, and Russia's aggression will not pay."
Stoltenberg added that the summit next week would see the upgrading of Nato's current ties with Ukraine to Ukraine-Nato council as a "platform for crisis consultation and decision making", with the Ukrainian president, Volodymyr Zelenskiy, in attendance.
For Ukraine to join Nato it first requires an invitation and an "action plan". Historically, the organisation has required prospective members to peacefully resolve any current conflicts and disputes, which would preclude Ukraine's membership while the war with Russia continues.
Zelenskiy is, however, seeking an invitation even if it lacks a fixed date for the process to begin, urging the US president, Joe Biden, to use his influence to push the issue forward.
Stoltenberg also addressed the accession of Sweden to Nato, which is being blocked by Turkey, saying there were still "gaps" to bridge for Turkey, an alliance member, to give its go-ahead. He said again he would meet Swedish and Turkish leaders on Monday, the day before the gathering officially starts.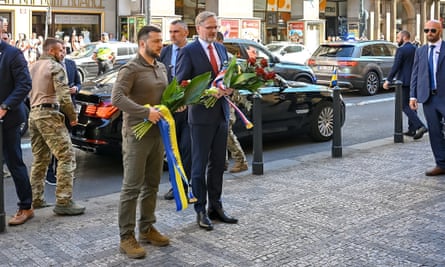 Stoltenberg's comments came as Zelenskiy continued a round of whistle-stop diplomacy in several European countries to argue for a firm commitment to admit Ukraine to Nato and ask for new weapons for Kyiv, ahead of a meeting with the Turkish president, Recep Tayyip Erdoğan.
Zelenskiy visited Slovakia and the Czech Republic on Friday as he also pushed the case for expedited negotiations for Ukraine to join the EU.
In Prague, Zelenskiy issued a call to the US and other allies to provide long-range weapons and artillery. It was revealed that the US was considering supplying cluster munitions to Kyiv, weapons banned under convention by scores of countries .
"Without long-range weapons, it is difficult not only to fulfil an offensive mission, it is difficult to conduct a defensive operation, to be honest," Zelenskiy told a joint press conference with the Czech prime minister, Petr Fiala. "First of all, we are talking about long-range systems with the United States and it depends only on them today."
Zelenskiy also called in Prague for accession talks to start this year with the EU. He then flew to Bratislava, where he met the Slovak president, Zuzana Čaputová, before heading to Turkey.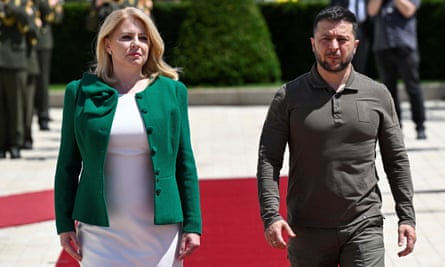 The talks with Erdoğan – an important broker in the conflict – will focus on an expiring deal to ship Ukrainian grain across the Black Sea, in addition to next week's Nato summit in Vilnius. Analysts also expect Zelenskiy to push Erdoğan to give a green light for Sweden's Nato membership ahead of Tuesday's meeting of the military alliance in the Lithuanian capital.
Turkey is blocking Sweden's candidacy because of a longstanding dispute about Stockholm's perceived lax attitude toward alleged Kurdish militants living in the Nordic country.
Zelenskiy and Erdoğan want to extend a UN and Turkey-brokered deal with Russia under which Ukraine has been allowed to ship grain to global markets during the war. The deal will expire on 17 July unless Russia agrees to its renewal.
Erdoğan has tried to leverage good working relations with both Zelenskiy and the Russian president, Vladimir Putin, to mediate an end to the war. Turkey staged two early rounds of peace negotiations and is pushing for more talks.
Before visiting Prague, Zelenskiy was in Bulgaria. The Kremlin criticised the visit, saying the Ukrainian leader was trying to "drag" other countries into the war, adding that it would closely follow the results of the meeting in Turkey between Zelenskiy and Erdoğan. The Kremlin spokesperson, Dmitry Peskov, said Putin may talk with Erdoğan soon, but no date has yet been set.
Source : TheGuardian