Tethered to a small speedboat and being towed towards us was the first of nine migrant boats we would encounter during our 24-hour patrol with the Tunisian coast guard.
More than 180 people were rescued, all wearing rubber rings, but no life jackets, as they were rescued from what is now the world's busiest migrant route into Europe.
Within half an hour of our departure from the Tunisian coastal city of Sfax and boarding the national coast guard patrol boat, the radar had intercepted its first signal.
Working in tandem with two speed boats, these smaller, more agile vessels were deployed first to find the migrant ship.
Once located, their captain was ordered to turn off the engine and submit to being towed back to the larger patrol vessel where six Tunisian coastguards stood ready to assist.
Sfax, which is less than 200km (124 miles) across the Mediterranean from the Italian island of Lampedusa, has long been a transit hub for sub-Saharan Africans wishing to travel illegally into Europe – as well as a network of smugglers seeking to profit from them.
Many migrants used to go by road to Libya, and from there catch a boat to Greece.
But last year, after the Libyan authorities deported thousands of migrants and intensified patrols along the coast, the preferred route for migrants wishing to travel to Europe switched to Tunisia.
In July, the European Commission offered to contribute $115m (£90m) towards Tunisian efforts to intensify its border controls, search-and-rescue operations and anti-smuggling initiatives.
The $115m is part of a larger aid package being offered by the International Monetary Fund (IMF). Tunisia has not yet agreed to the terms of how exactly the money should be spent.
The UN reported that in the first six months of this year, 54,049 people were picked up by the Italian or Tunisian coast guard – a figure close to double the number who attempted the crossing during the whole of 2022.
It has also been an exceptionally perilous start to the year with the loss of more than 2,000 lives, according to the UN.
The coast guards were met with a wave of anger as the 46 passengers began to disembark from the migrant boat that had been towed.
"Let me go to Italy," one man shouted. "I'll only try again," screamed another.
All hailing from Ivory Coast and Guinea, they told us it was their third and even fourth attempt to cross this stretch of sea.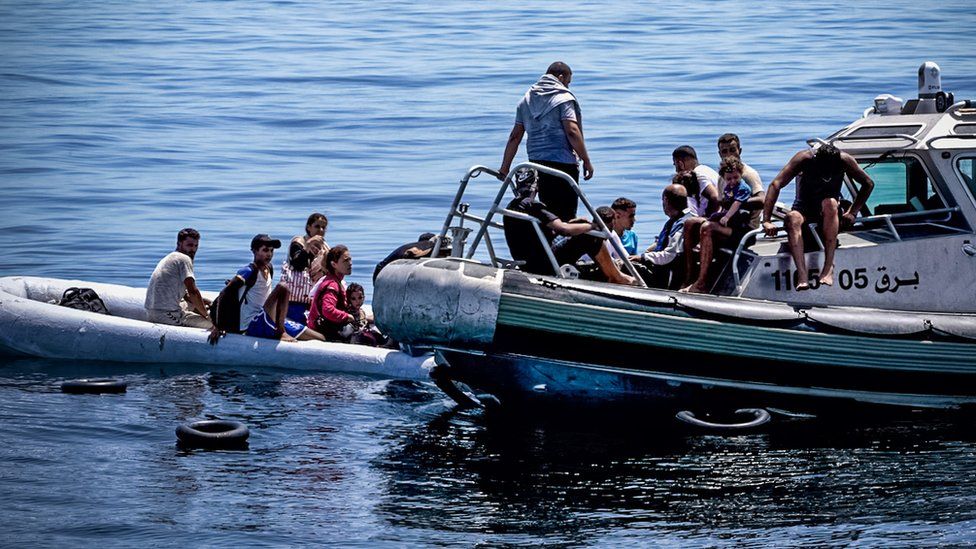 Although we were allowed to witness everything that went on during the operation, the crew on board had been told not to answer any of our questions. Instead, their spokesman Hossam El-Din El-Jababli, spoke to us once we were back at the port.
"There are those who threaten to throw themselves back overboard. To even pour petrol over themselves and set it alight," said Mr El-Jababli.
After releasing all the passengers back onto Tunisian soil, the radar soon detects another boat.
The two speed boats are sent to investigate.
As the second makeshift metal boat of the day pulled alongside us, all 20 people on board began begging for food and water. They tell us they have been adrift for more than 12 hours.
The passengers, from Sudan, Yemen, Libya and Syria, describe fleeing from war zones before ending up in Tunisia. Unlike the first boat, this group appears deeply traumatised and exhausted.
Returning to the shore, their captain is arrested by the Tunisian authorities. Charged with human trafficking, he could face a long prison sentence if found guilty.
As for the rest of the passengers, after having their details checked by the authorities, they are free to go – no doubt to try again.
Smugglers' prices for a place on the boat hugely vary depending on the migrant's nationality, the quality of the vessel and the time of year.
During these past summer months, prices reported in Sfax have ranged from 1,200 Tunisian dinars ($385; £300) to 6,500 Tunisian dinars ($2,100; £1,640). Those only able to pay the lower price are offered the most unstable vessels.
But with every coast guard interception and failed attempt, many migrants fall into a spiral of debt. They pledge to try one more time, to take one more loan. Only to fail again and sink deeper into poverty.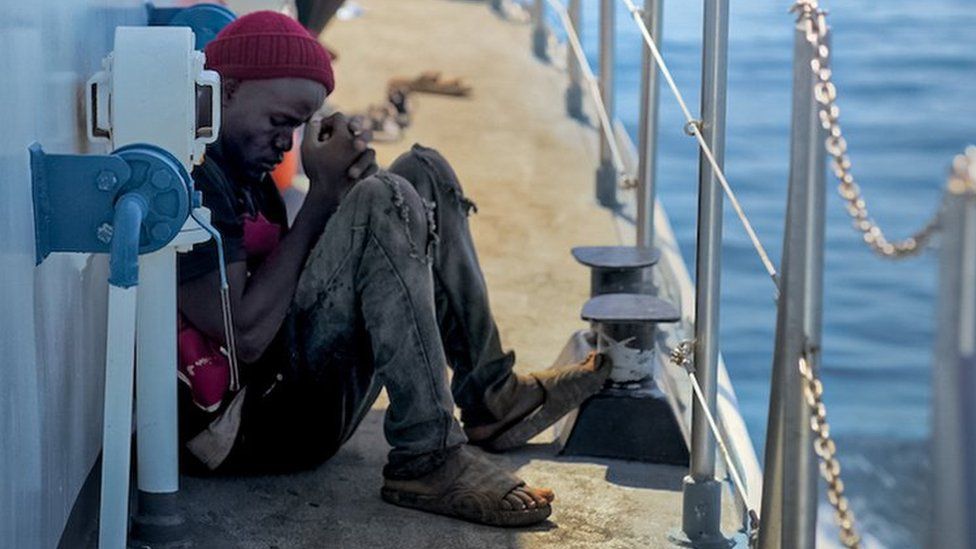 Sailing back out into the channel, a dozen items of clothes and shoes were seen floating in the water. Even the crew fell silent as we passed by.
Speaking to the BBC, the city's health director, Hatem Al-Sharif, said more than 700 unidentified people, including young children, have been buried in unmarked graves on the outskirts of Sfax since the beginning of this year.
Some blame Tunisian smugglers who, along this section of the coast, are known for using worn-out, unsuitable metal boats.
We saw dozens of these vessels, stacked high in a huge heap after being seized during a raid by the Tunisian authorities.
The local fishermen too said they were particularly wary of these boats as they are more prone to sinking and often splice their nets. They also describe with much sadness what it feels like when they discovered a body, especially when it is a child.
"I've seen a lot of dead bodies. I don't want the migrants to continue making this journey. Our coastline has become a cemetery," say Al-Jilani Kamel, a fisherman.
Over the course of the next hour, we watched as the crew worked tirelessly, intercepting five more migrant boats in succession.
Then just as their shift was coming to a close, there was a final call. This time, it concerned a boat full of their own compatriots.
Tunisians make up fewer than 15% of those trying to cross from the country into Europe. But as we saw, their anguish was no less intense.
As we pulled alongside their vessel, one Tunisian man stood up and began threatening to throw his young daughter overboard – for which he was later arrested.
Another screamed this was his fourth attempt. "It's as if I'm already dead," he cried out.
As we disembarked for the final time and began driving away from the port, dozens of migrants were walking along the side of the road after being released by the coast guard.
"We will probably spend the night here in these olive groves," said Abubakr, from Ivory Coast.
"And then we will try again," said another young man.
Asked if they were afraid of dying while trying to cross, a Sudanese man, Adel Adbullah, said: "I fled from war. I don't think I will see any worse at sea than I already have. I have nothing to lose."
Source : BBC