Ukraine's deputy defence minister has vowed to help pursue army commanders credibly accused of sexual harassment through the courts after allegations of "unacceptable" behaviour were raised by a female soldier speaking to the Guardian.
Hanna Maliar, a lawyer by training, called on those who claimed to have been targeted to meet her, after a whistleblower alleged that a commander in a combat unit had ordered female subordinates to have sex with him or face their husbands being sent to the front.
She also said she would investigate allegations that women in the armed forces had been threatened with being sent to psychiatric units for raising allegations of sexual harassment or seeking to transfer to a combat unit, warning the accused that she would personally take any credible cases to the police.
The allegations were made last week by a platoon sergeant, Nadiya Haran, 27, who told the Guardian that she felt forced to ask to be transferred from her previous unit after raising the cases with senior officers but being told to "shut up".
"I left [my brigade] because there was this person high up the food chain who would harass women and I know these women," she had said. "Some of them are my subordinates who I'm responsible for. They were harassed by the same person who basically told them if they refuse to have sex with him, he's sending their husbands who were also in the brigade to their deaths. I was told to shut up because he did not harass me personally."
Maliar said she would meet Haran and protect any female soldiers who came forward with testimony.
She said: "I tell all women in the armed forces to write me a statement. I will contact the police and bring the police by the hand to investigate this. Give me all the information, I will personally contact the police. These things are unacceptable; a woman cannot be treated like this. I will protect them."
Haran told the Guardian she would be pleased to talk to the minister about the allegations.
There are about 60,000 women working in the military, 42,000 of whom are soldiers. Of those, 5,000 are fighting on the frontline.
Talking to the Guardian, a number of individuals, and their representatives in the veterans organisation Veteranka, had also complained of a lack of female combat uniforms and protective armour.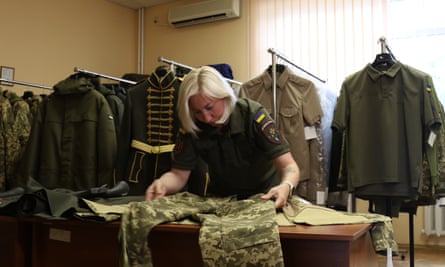 Maliar said a new uniform for female soldiers had now been approved and that the contract was out to tender. It is understood that the defence ministry is aiming to distribute the new kit this autumn.
She said: "For combat, the uniform needs to be improved. We need to create uniforms for women. Even when we are talking about underwear, when a woman holds a machine gun, it is necessary that the straps do not fly off the bra, if you will excuse such details.
"You need underwear that helps you go to the toilet in combat conditions. I need to be able to put on a bulletproof vest and not have anything in the way.
"It was for these combat conditions that we really had to develop such a uniform. And it really didn't exist, just like in most other countries in the world."
Maliar added: "The development of this uniform has taken time because it involves testing. The women in focus groups have to wear several versions of this uniform and then choose the best one. This took time.
"Now this sample uniform has been approved. The next step is to find a supplier who can provide this volume of uniforms. Last week we approved a sample of this uniform.
"Next, the ministry of defence's reserve supply department will announce a tender and set out the technical specifications. Then factories and manufacturers take part in the tender. One company has to win and then it will start producing this uniform."
Maliar said that the Ukrainian army had looked for protective vests for women but that the standards of those on the market were not sufficiently high and that the ministry of defence was looking to produce its own.
Source : TheGuardian