Russian drones have attacked Ukrainian ports on the River Danube, destroying grain storage infrastructure, local officials say.
The facilities are just across the river from Nato-member Romania.
The Danube is a key export route for Kyiv since Russia pulled out of a deal allowing Ukraine to ship wheat, corn and other products via the Black Sea.
A grain depot was also destroyed in the Black Sea port city of Odesa, which has come under almost nightly attack.
Officials say more than 60,000 tonnes of grain have been destroyed in the past week.
Global markets have seen the price of grain rise by 8% within a day of Russia's pullout from the grain deal, on 17 July.
The collapse of the deal also means that Russia has resumed targeting of port locations in Ukraine which had been suspended during the deal.
Odesa head Oleh Kiper, whose region also covers the Danube ports of Reni and Izmail, said in his Telegram channel that Russia had attacked the infrastructure there for four hours with Iranian-made drones.
He said a grain hangar and tanks for storage were destroyed. Other local officials say three warehouses were bombed.
Three drones out of about 15 involved in the attack were destroyed by air defences, Mr Kiper added.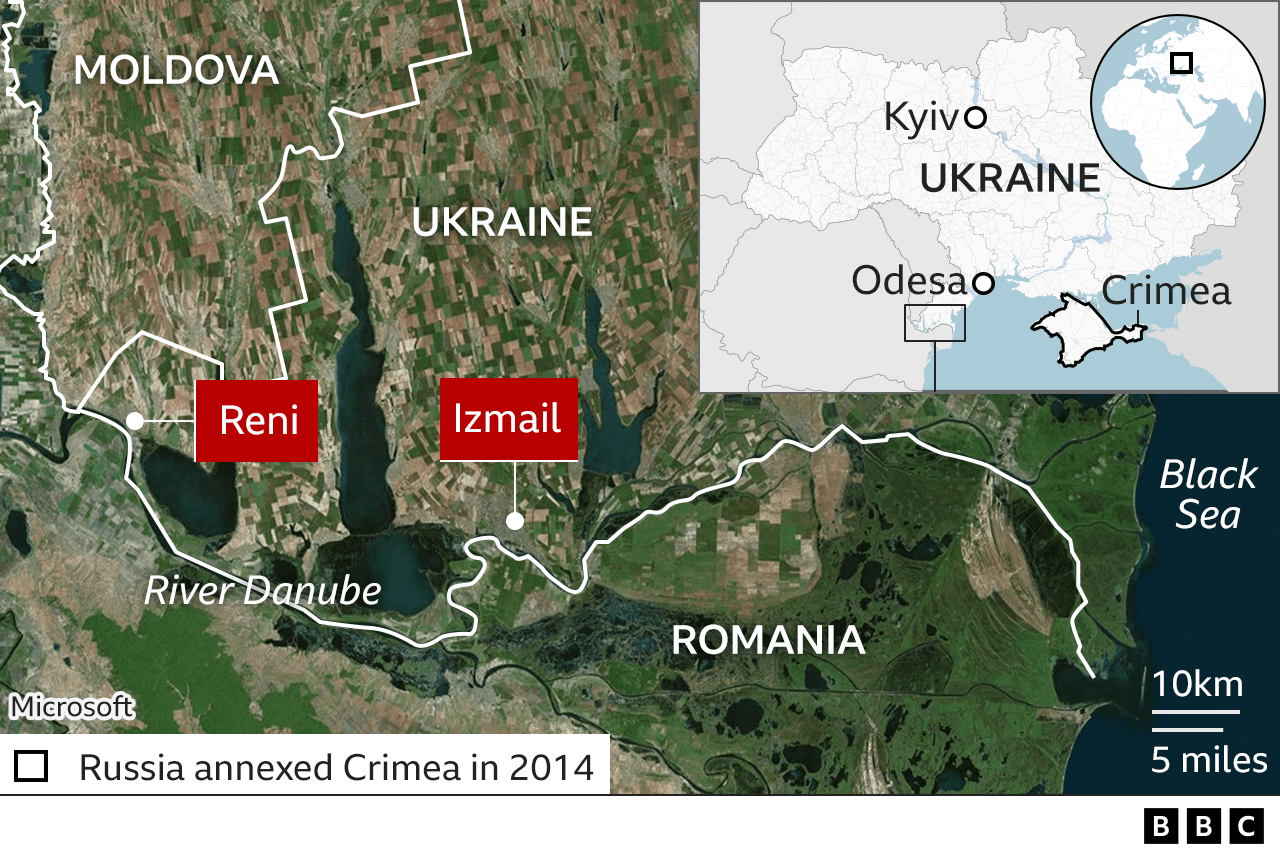 Four people were injured, one seriously, officials said.
Romanian President Klaus Yohannis condemned the attack "very close" to his country.
"This recent escalation pose [sic] serious risks to the security in the Black Sea. It also affects further UA [Ukraine] grain transit & thus the global food security," he said on Twitter.
Romanian media reported that soldiers and sailors on the opposite side of the river could see bright lights, and hear the approach of the drones and the explosions.
One journalist described it as the closest hit to Romanian territory since the beginning of the war. Reni is about 200m from Romania across the Danube and 10km from the Romanian port city of Galati.
The Danube, as well as road and rail routes from Ukraine to Poland, Romania and other neighbouring countries, have been developed as export channels since the Russian invasion.
Two million tonnes of grain have been exported by river in the past year, compared with 600,000 the previous year.
But all these routes have only been able to shift a fraction of what Ukraine needs to export, and are much more expensive logistically than by sea.
The exports via eastern Europe have also caused anger among farmers in neighbouring countries, where Ukrainian grain has flooded markets and driven down prices.
As Russian attacks on Ukraine's grain exports continue, Russian President Vladimir Putin has said his country is "capable of replacing the Ukrainian grain both on a commercial and free-of-charge basis" for countries in Africa that had imported from Ukraine.
Moscow is due to host a Russia-Africa summit later this week.
Ukraine, often described as Europe's bread basket, is the world's seventh largest exporter of wheat, and 71% of its land is agricultural.
Source : BBC